Typography and Letterhead
Official Fonts
Design: Avenir
MVC's official print and digital design font is Avenir. Initially developed in the 1920s, Avenir is a geometric sans-serif typeface that emphasizes open, round shapes. The newest iteration of the font was released in 1988 by Adrian Frutiger. You'll find this font in use by MVC on flyers, web and social media graphics, posters and more. MVC does not install this font on most devices. If you need this font installed on your device, contact Web Development for a licensed copy.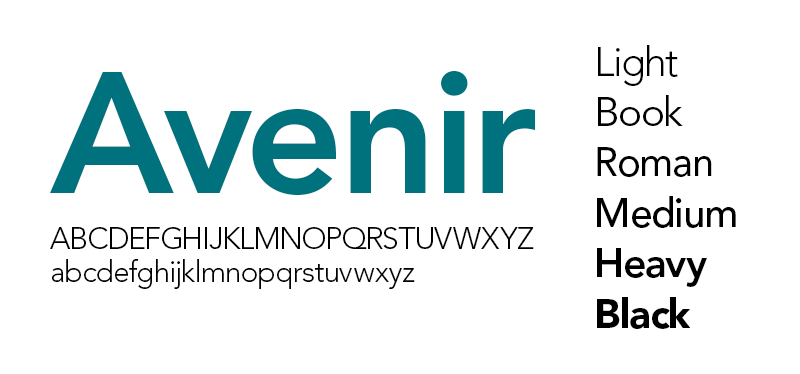 Web: Clarity City
For web, MVC's official font is Clarity City, a modern sans-serif font available in nine weights from thin to black. Clarity City was designed by VMware and is ideal for small and large format on-screen display. Clarity City is a free font and can be installed on most devices.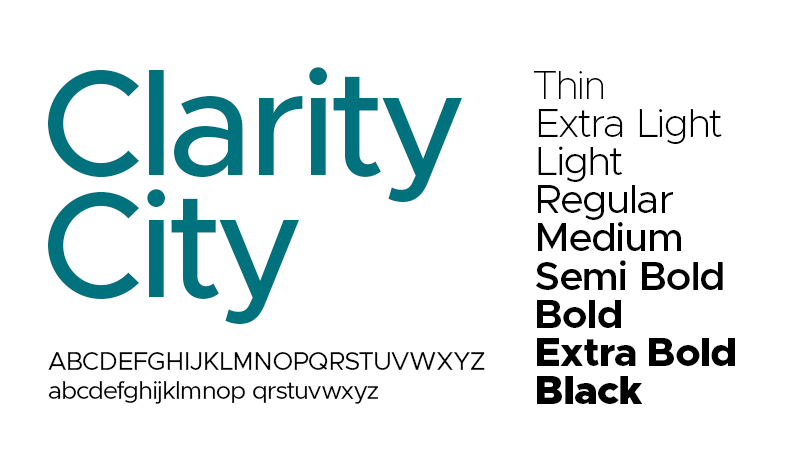 Type and Formatting
All letters and printed materials should be typed in approved fonts. Margins for written content may be no less than 1 inch from the edge of the paper.
Titles and Headlines: Avenir
Sans-Serif Alternative for Headlines: Century Gothic
Serif Alternatives for Headlines: Century Schoolbook, Times New Roman or Bell MT
Body text: Gill Sans MT, or Trebuchet MS
Letterhead
Letterhead is available either through the District Printing and Graphics Center or the brand toolkit. MVC does not support third party vendors for letterhead, envelopes or business cards.
Letterhead specifications:
Size: 8.5" x 11
Paper: 24# bond white
Logo: Upper left corner, 1.125 x 16
Address text:

Color: Black
Font: Avenir

Body text:

Fonts: Gill Sans MT, Trebuchet MS, Arial
Business Cards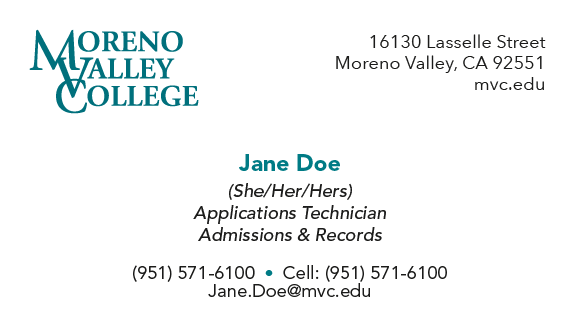 Employee business cards must follow an approved template for consistency. Employees may modify contact information, such as name, email, and phone numbers, but not where that information is placed. Preferred pronouns are optional but may be added.
Required font: Avenir
Reverse side: College mission, vision and values
Must include: First and last name, job title, department/office, phone and employee email.
Optional additions: Preferred pronouns, cell phone or other contact numbers
Marketing materials in the shape of a business card that reference a service and not employees may be utilized provided they follow brand guidelines regarding logos, color, type, and editorial identity.
Local Marketing Material
Marketing materials, including, but not limited to, flyers, postcards, brochures, and posters must be approved by administration. The RCCD office of External Relations and Strategic Communications is available to assist with marketing material development. RCCD Creative Services is available to work with programs and departments to produce marketing material in the most cost effective manner.
External Relations and Strategic Communications is dedicated to assist in building a consistent and recognizable brand for MVC. Any needs for advertising production should be brought to the attention of External Relations and Strategic Communications to assist in meeting the need of the local advertiser. A request should be submitted through the RCCD Creative Services Design Request Form for the production of the ad or other material.