Isakson and Roe Section 1018
Get the full financial picture of attending MVC
Paying for college involves more than just fees and tuition. Veteran students also have to make considerations for how stipends, benefits and other factors affect their college costs. The Veterans Services team has put together resources to help you evaluate and plan for your educational and living expenses while you earn your degree or certificate.
About Isakson and Roe
Information for Veterans and Dependents
Section 1018 of Public Law 116-315, Johnny Isakson and David P. Roe, M.D. Veterans Health Care and Benefits Improvement Act of 2020, adds new requirements for universities to provide financial information to students using benefits under chapter 30, 31, 32, 33, or 35 of title 38, U.S.C., or Chapter 1606 of title 10, U.S.C.
For timely updates about this new law, visit the Isakson and Roe Veterans Health Care and Benefits Improvement Act of 2020 webpage. For specific information regarding any area that applies to your situation, contact the respective department or email veterans@mvc.edu.
Campus Contacts
If you have any questions about your services, status or need support as a Veteran student, MVC's student support team is available to assist.
Veterans Team
Mark Diaz
Veterans Services Coordinator, School Certifying Official
(951) 571-6913
Larry Peña
Veterans Counselor
(951) 571-6158
Estimated Costs
How much can you expect to spend annually attending MVC?
The cost of attendance (or budget) is the estimated total amount it may cost to attend college. Your budget will vary depending on your living situation (whether you live with your parents or off campus) and residency status (California resident or non-resident). Your final cost depends on your receiving VA educational benefits to cover for tuition and fees, books/supplies, a monthly housing allowance; retaking a failed course; changing your program of study which requires more or less credits, and/ or a change in cost of living.
Tuition Cost of Attendance Tools to Estimate Costs
Monthly Housing Allowances and Stipends
For VA Educational Benefits (Chapter 30, 31, 33, 35 and 1606*)
Students can search by college to determine estimated GI Bill® benefits, housing allowance and book stipend by using the GI Bill® Comparison Tool. For further information regarding your specific federal benefit, contact our Veterans Resource Center.
Chapter
Stipend
Chapter 30 –
Montgomery GI Bill®
$2,150 (3+ years of service) (tuition & fees not covered)
Chapter 31 –
Veteran Readiness & Employment
$605 per month (no dependents)*
Chapter 33 –
Post 9/11 GI Bill®
$2,199 per month (tuition & fees covered)**
Chapter 35 –
Dependents Educational Assistance
$1,298 per month (tuition & fees not covered)
Chapter 1606 –
Selected Reserve/National Guard
$407.00 per month (tuition & fees not covered)
*The monthly stipend amount varies based on number of dependents and eligibility for Chapter 33
** Only Chapter 33 recipients may be entitled to a percentage of the following VA Educational Benefits based on your length of Service:
Cost of tuition and fees for an in-State student (paid to the school and prorated based on the eligibility percentage) - $1,420 per year
Monthly housing allowance equal to the basic allowance for housing payable to a military E-5 with dependents, in the same zip code as your school (paid to the student and prorated based on training time and the eligibility percentage)
Yearly book and supply stipend of up to $1000 per year (paid to the student @ $41.67 per unit and prorated based on the eligibility percentage).
Federal Financial Aid
You may be qualified to receive federal financial assistance.
Students using VA education benefits are encouraged to apply for financial aid online through the FAFSA to be considered for federal, state, and institution grants, as well as scholarships (receiving Financial Aid does not reduce your monthly housing allowance from the VA). Financial aid can be used alongside VA veteran education benefits. The school code for MVC on the FAFSA is 041735.
Students should also check their financial aid award letter in MyPortal or WebAdvisor. An overview of aid options can be found on the financial aid page. For further assistance, contact Student Financial Services. MVC also offers Financial Aid TV which is an online service that provides current and prospective students and families with instant access to short videos that discuss important financial aid topics.
FAFSA Online Launch Financial Aid TV
Student Loans
For many students, borrowing in order to finance their college degree is necessary, but it's important to borrow responsibly and only what you need. Students may borrow (if eligible), between $5,500 to $10,500 per year, depending on grade level and dependency status. To estimate your monthly loan repayment amount and for additional information on student loans, visit the US Department of Education's Student Aid website.
MVC does not recommend borrowing more than $10,000 at the community college level (this includes loans from any other institution that you attended). Students who already owe $10,000 or more will be required to meet with a financial aid representative prior to a loan being approved. Your student loan history can be reviewed on the student aid government website using your FSA ID.
Learn about loans or view your student loan history
Graduation Rates
Students can access the graduation rates for Moreno Valley College using College Navigator from the National Center for Education Statistics.
Job Placement Rates (2019-20)
The proportion of students who were unemployed and became employed after exiting college is 55% among students who exited the community college system without transferring to a post-secondary institution. To learn more student success metrics, use the Cal Pass Plus website, select "College" and type Moreno Valley College in the search bar, and choose from the list of student journeys.
Transfer and Military Credits
Learn how you can apply transfer and military toward your degree or certificate.
Students receiving VA education benefits are required to submit their college transcripts/military transcripts (JST's) no later than the end of their first semester. All students need to meet with a counselor to determine the process for verification of credits and how those credits are applied to their educational goals. Military transcripts can be requested by visiting the Joint Services Transcript website.
Request Military Transcripts Transcripts
Program Requirements or Examinations
Some programs of study have required courses or lead to professional licensing opportunities. These details are available on the program and discipline pages. Choose one of MVC's academic programs to learn more about its requirements and any related examinations.
Other Academic, Aid and Cost Information
Further information on costs, academic requirements, services available to students can be found in the annual Student Financial Services Consumer Guide.
In-State Tuition Requirements
Students eligible for VA educational benefits including the Montgomery GI Bill®–Active Duty program (Chapter 30), the Veterans Readiness and Employment program (formerly called Vocational Rehabilitation and Employment) (Chapter 31), the Post-9/11 GI Bill® program (Chapter 33), or Dependents Educational Assistance (Chapter 35) are exempt from paying nonresident tuition regardless of when the veteran or dependent separated from the military.
To request an exemption, complete the Non-Resident Tuition Exemption Request for Military form. Students can visit the Veterans Resource Center web page for information how to update the residency status or request for exemption.
Enrollment Certification
Certification for VA Education Benefits each semester is not automatic. Students who wish to receive the benefit must complete the Statement of Responsibility paperwork with the School Certifying Official and must submit the enrollment certification request every semester after signing up for your classes to continue receiving benefits and to prevent delays in benefit payment. If the Statement of Responsibility form is not submitted to Veterans Services, we will assume that the student does not wish to receive their VA education benefits or are no longer attending, and the benefits will discontinue into the next semester. The Enrollment Certification can be submitted in person at the Veterans Resource Center at Parkside Complex 13 (PSC-13) or by email to veterans@mvc.edu.
Absence Due to Military Service
A student who is an active duty or reservist of the United States military, and who receive orders compelling a withdrawal from courses, should submit an Extenuating Circumstances Petition to the Admissions and Records Office, requesting a Military Withdrawal (MW), with proof of such orders to receive a full refund of those courses. An "MW" symbol will be assigned and will not be counted in progress probation, dismissal calculations, or in calculating the permitted number of withdrawals a student is allowed.
Student can resubmit the application for admission upon return.
For Chapter 33 students, the school will return the tuition and fees to the VA.
Students who are receiving the VA benefit along with financial aid should be aware that withdrawing from a course(s) will have an impact on their benefit/financial aid status. Students are strongly encouraged to talk to Student Financial Services and your School Certifying Official(s). VA benefits will stop as of the drop date reported for all classes. Students will be responsible to repaying VA the funds received for such course(s), (BAH/Monthly assistance allowance), or submitting a Mitigating Circumstance form to the VA.
If you are a Cal Grant recipient and have been called to active military duty or are entering military service, you may apply for a deferment of your Cal Grant for up to three years. Send the Military Deferment Request Cal Grant Programs form to the California Student Aid Commission, along with a copy of your orders. Contact Admissions & Records for more information about dropping.
Tools and Resources
The following websites can also help you determine an estimate cost of attending Moreno Valley College:
College Scorecard: A consumer tool and resource to assist prospective students and their families as they evaluate options in selecting a school.
College Navigator: A consumer tool that provides school information to include tuition and fees, retention and graduation rates, use of financial aid, student loan default rates and features a cost calculator and school comparison tool.
Paying For College: A resource for prospective students to evaluate and compare detailed financial information on up to three schools at a time against actual financial aid award information.
GI Bill® is a registered trademark of the U.S. Department of Veterans Affairs (VA). More information about education benefits offered by VA is available at the official US government website.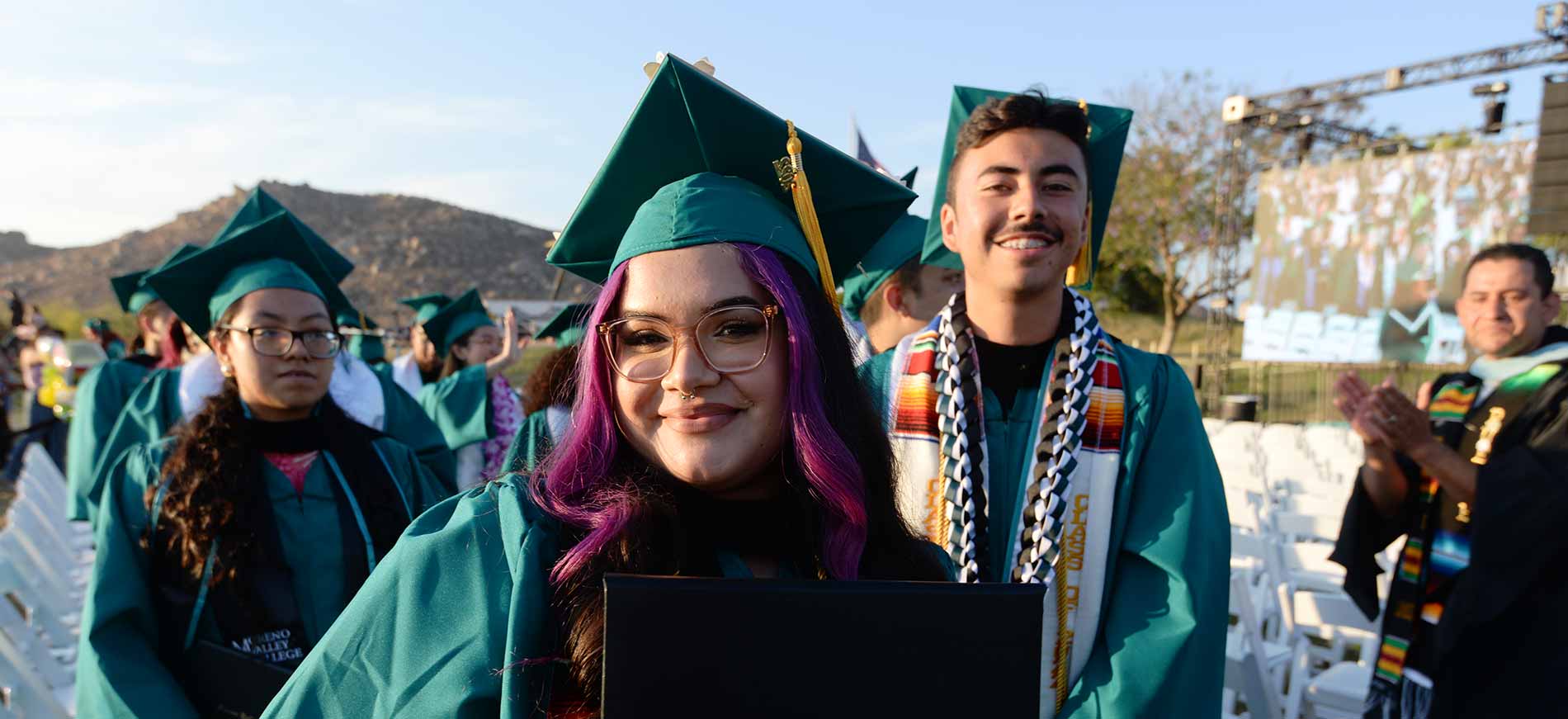 Ready to become a Mountain Lion?