Live a Life of Service
The Moreno Valley College (MVC) Paramedic Program prepares competent, entry-level paramedics and teaches students the advanced skills needed for successful careers in emergency medical response. The full-time Paramedic Academy is an annual program that meets Monday through Wednesday for approximately 12 months. The required prep class meets approximately 4 weeks prior to the start of each program.
Program Overview
Program Start:

Fall or spring semester of each year
Location: EMS classes are held at MVC's Ben Clark Education Center.
Application submission deadlines: The application period for a fall start is March 1 to June 1, while the spring period is from September 1 to December 1. Applications must be submitted on time to attend the mandatory orientation. Applications can be dropped off at the EMS office at the School of Public Safety Building or mailed by the deadline. Drop-off applications are preferred; to set up a time, email Director Fontaine.
Mandatory orientation and prep class: A

completed paramedic application must be on file and positive attendance at the orientation must occur in order to pre-register for the mandatory MVC paramedic prep class.

Mandatory orientation

for the paramedic program will be on Monday, June 26 from 1:30 - 3:30 pm in School of Public Safety Building.
Mandatory prep class

will be Wednesday to Friday, July 12 to 14 from 8 am - 6 pm at Ben Clark Training Center in the School of Public Safety Building, Room 103.
Application Information
Applications are accepted up to 3 months prior to the start of each program. The MVC EMS program does not recognize prior learning of a student to obtain advanced placement.
To be considered complete, the application must include copies of the following:
Official transcripts of all schools previously attended.
Current EMT-I card. EMT-I must remain current throughout the program.
Current CPR card. CPR card must be American Heart Association "Healthcare Provider Level."
Verification of High School Diploma or GED.
Verification of age (at least 18 years old). Driver's license is acceptable.
Attach passport size picture to application
Documentation from current and/or previous employer(s) verifying six month full time experience or 1,000 hours of part time work experience as an EMT. At least 50% of this experience must be in the pre-hospital setting. Work experience can be either paid or volunteer experience. The letter(s)

must be on official letterhead and signed by an official from that agencies. It needs to list the start date and the total hours worked. If part-time, the monthly or yearly call volume of the area served must also be included. This letter is not a letter of recommendation; it is a verification of experience.
Successful completion (with a "C" or better) of Biology 45 (BIO-45) or equivalent. In-progress enrollment in this course will be accepted but all coursework

must be completed and verification submitted prior to the beginning of the paramedic program. A copy of current course enrollment must be submitted for the application to be considered complete. See below for course equivalents at other colleges.
Here are a few equivalent courses that students can take that equate to Moreno Valley College for BIO-45 (formerly known as AMY-10) for the Paramedic program of study:
Cerritos College: A&P 120
Chaffey College: BIO 424
Coastline College: BIO C221
Crafton Hills College: ANAT 101
Cypress College: BIOL 210C
Golden West College: BIOL G221
Irvine Valley College: BIOL 121
Long Beach City College: ANAT 41
Mt San Antonio College: EMS 10 and/or VOC ANA 50
Mt San Jacinto College: ANAT 101 & 102 (need both)
Orange Coast College: BIOL A221
Palomar College: ZOO 145 (do not need ZOO 145L)
Saddleback College: BIO 113
San Bernardino Valley College: BIOL 155
San Diego Mesa College: BIOL 160
Santa Ana College: BIOL 149
CSU Fullerton: KNES 210
These are just some of the courses that meet our BIO-45 course requirement. The full sequence of anatomy and physiology with labs is usually accepted, but is much more than the requirement. If you require assistance, email mvcevaluations@mvc.edu. Unofficial transcripts or a copy of the enrollment receipt are acceptable to verify BIO-45 requirements. Any official transcripts submitted to the paramedic office will remain and will not qualify for official college transcripts. Official transcripts must be received by the MVC evaluations office prior to the start of the program.
We have found that students who have completed the following prerequisites are more successful in the program. While we do not require completion of these courses prior to acceptance into the program, you should understand that our courses are taught with the understanding that you are familiar with the content of these courses.
ENG-1A English Composition
Medical Terminology
Uniforms can be purchased at:
P&P Uniform Store
21790 Van Buren Suite 102
Riverside, CA 92508
(951) 776-0048
ITEM
COST

Uniform Shirt S/S
(3 required)

$20.99 each

Uniform Shirt L/S
(2 required)

$23.99 each

Uniform Pants
(5 pairs required)

$21.99 pair

MVC Paramedic T-Shirt
(5 required)

$11.33 each

MVC Paramedic Sweatshirt

$14.99

MVC PT Shorts
(2 pairs required)

$14.99 each

Station Boot

$172.99

Chambers 1 1/2" belt

$12.99

1" Gold Nameplate
(2 required)

$6.00 each

Red/Black Epaulettes
(2 required)

$10.00 each

MVC Patch
(14 required)

$3.99 each

Black Tie

$5.99

Station Jacket

$99.99

Class "A" Jacket

$171.99

Wingman Patrol Bag

$89.99

Safety Glasses

$6.95

Pen light/Stethoscope/BP Cuff Kit (1)
(2 AAA batteries required for pen light)

$85.71
Licensure
Graduates of the Moreno Valley College Paramedic program are eligible to apply for licensure with the State of California EMS Authority. The EMS Authority may deny any EMT-P license for occurrences listed in Division 2.5 of the Health and Safety Code section 1798.200. Questions related to licensure should be directed to the State of California EMS Authority.
Program Certification
The Commission on Accreditation of Allied Health Education Programs (CAAHEP) certifies that the EMS program at MVC has completed an accreditation review and is judged to be in compliance with the nationally-established standards on November 22, 2004 and will be expiring on January 16, 2025. The MVC EMS program is currently in good standing.
CAAHEP Standard II.C. Minimum Expectation
To prepare competent entry-level Paramedics in the cognitive (knowledge), psychomotor (skills), and affective (behavior) learning domains with or without exit points at the Advanced Emergency Medical Technician and/or Emergency Medical Technician, and/or Emergency Medical Responder levels.
About Certification
The Commission on Accreditation of Allied Health Education Programs (CAAHEP) is the largest programmatic accreditor in the allied health sciences field.
Certification for becoming a practicing EMT occurs through the National Registry for EMTs.
Paramedic Program Outcomes
Paramedic Program with Outcomes CAAHEP Accredited Paramedic Programs and CoAEMSP Letter of Review (LoR) Programs track and report outcome measures annually to the Committee on Accreditation for the Emergency Medical Services Professions (CoAEMSP). The most current CoAEMSP Annual Report was for the calendar year 2021. The most recent success rate for the National Registry of EMT Paramedic/State Cognitive exam was 100%.
The most recent positive placement rate for graduates was 100%. Positive placement is defined by the CoAEMSP as "Employed full or part-time in a related field and/or continuing his/her education and/or serving in the military." Positive placement is measured at completion of the program.
The most recent retention rate was 89.7%.
View Outcomes (pdf) Test and Passage Rate Information (pdf)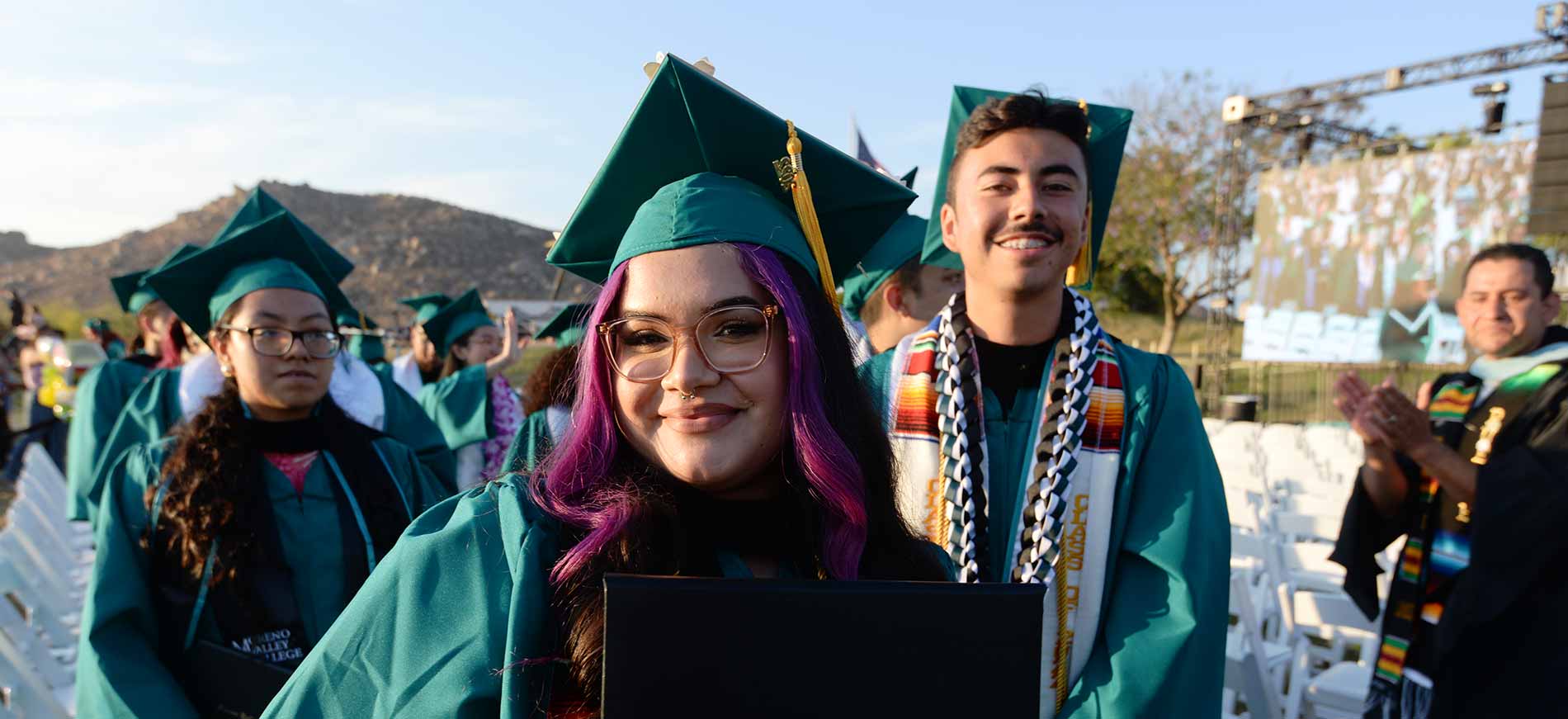 Ready to become a Mountain Lion?