Early Childhood Education Receives Grant to Support Parenting Students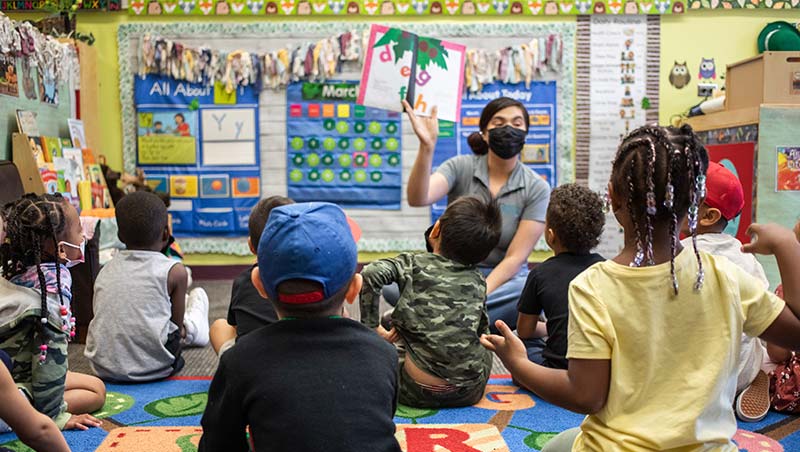 Moreno Valley College received a US Department of Education Child Care Access Means Parents in School (CCAMPIS) Grant to support Pell-eligible parenting students with free care in the Center. The funding is for four years at $90,000 annually.
Currently more than 72 percent of students at Moreno Valley College qualified for the Pell Grant and/or the California College Promise.
The city of Moreno Valley is considered a "childcare desert," or an area with the need for childcare far outpaces the available supply. In 2019, the availability of childcare for working families in Riverside County was less than 20 percent. This problem has only been exacerbated by the pandemic, as well as closures of childcare providers due to skyrocketing costs and the inability to fill positions because wages cannot keep up with the high cost of living in southern California.
More than 10,000 childcare programs either temporarily or permanently closed during the pandemic and data points to a loss of 18,000 licensed childcare slots across the state between 2019 and 2021. Therefore, families across California lack access to quality childcare while providers who survived the pandemic struggle to recruit employees.
"This grant will help us support our Pell-eligible student parents by providing free childcare tuition," Sandra Rivas, director of the Early Childhood Education Center, said. "This grant may also be used to expand our services to best support our student parents."
The Early Childhood Center currently operates from 7 am to 5:30 pm, Monday through Friday, and offers services for toddlers to preschool aged children. The College is in an area where 77 percent of families lack childcare options. When a slot becomes available, there are 4.13 children waiting to receive childcare.
"A mother attending school comes with many challenges, but the CCAMPIS program has allowed college to be an option for me, allowing quality childcare for my daughter and the time for me to attend my classes," Cindy Garcia, a MVC student, said.
The College's Center is licensed to serve 63 children. The Center operates at capacity most of the year usually with a waitlist.
"The CCAMPIS program has had a significant impact on my academic success," Jasmine Ayala, a MVC student, said. "Knowing my child is in a safe environment allows me to focus better on my studies. I also appreciate that my son is exposed to a learning setting rather than just a daycare."
Rivas said the grant will increase the number of childcare slots available to low-income student parents, extend Early Childhood Education Center operational hours, and allow the Center to offer a Saturday childcare program. And, allow for the additional hiring of two parttime associate teachers, a site supervisor, help the Center to increase the number of parent workshops, and support waivers to eight (full-time equivalent) families, reducing the total cost of care by up to 75 percent.
"Unstable access to quality childcare can hinder student success; we will help remove this barrier by providing stable childcare access," Rivas said. "MVC's Early Childhood Education Center is committed to providing the best educational experience for young children, as well as a supportive and rewarding experience for their parents/guardians."