The Concurrent Enrollment program allows current high school students to take college classes while finishing their high school diploma.
Take college classes as a high school student
Are you a high school student interested in earning college credit while you finish your high school diploma? Concurrent enrollment may be an option for you! With the approval of your parent/guardian, qualifying students can get a head start on their college career even as they complete their high school courses.
Concurrent enrollment does not replace high school courses. Concurrent classes at Moreno Valley College are taken in addition to your normal required high school classes.
About the program
Minor high school students capable of benefiting from advanced scholastic or vocational work, are classified as highly gifted and/or talented, or are seeking educational opportunities not otherwise available to them, may be eligible for admission to Moreno Valley College as a special student, pursuant to Sections 48800, 48800.5, 48802, 76001, and 76002 of the California Education Code.
What you'll need
All high school students wishing to attend Moreno Valley College are required to submit the following documents by the published deadline:
Moreno Valley College Online Application Confirmation Page
Students enrolled in a Home Study Program must provide proof that the Home Study Program is registered with the State of California.
Application Periods
Submit the application confirmation page, completed High School Concurrent Enrollment (HSCE) School/Parent Approval Form and, if enrolled in a Home Study program, proof the Home Study Program is registered with the State of California to Admission & Records by these dates for each term you wish to attend:
Summer 2022 term: June 10, 2022
Fall 2022 term: August 12, 2022
Winter 2023 term: December 15, 2022
Spring 2023 term: February 3, 2023
Eligibility
To qualify for concurrent admission at Moreno Valley College, students must be at least 16 years of age or have completed the 10th grade and must be in good academic standing with a high school GPA of at least 2.5.
Students under 16 or who have not completed the 10th grade must receive supplementary approval from the MVC Director of Admissions & Records through an additional interview process. The interview and approval process, in addition to the required documents, must be completed and submitted by the application deadline to be eligible to attend Moreno Valley College.
Enrollment Limitations
HSCE students may enroll in a

maximum

of 8 units in Fall/Spring and 5 units in Summer.
HSCE students are not permitted to enroll in any Kinesiology (KIN) courses.
HSCE students approved at Moreno Valley College may enroll into general courses offered at Riverside City or Norco College, in accordance with each college's high school concurrent enrollment policies and procedures.
HSCE students approved at Riverside City or Norco College may only enroll into Moreno Valley College classes in person.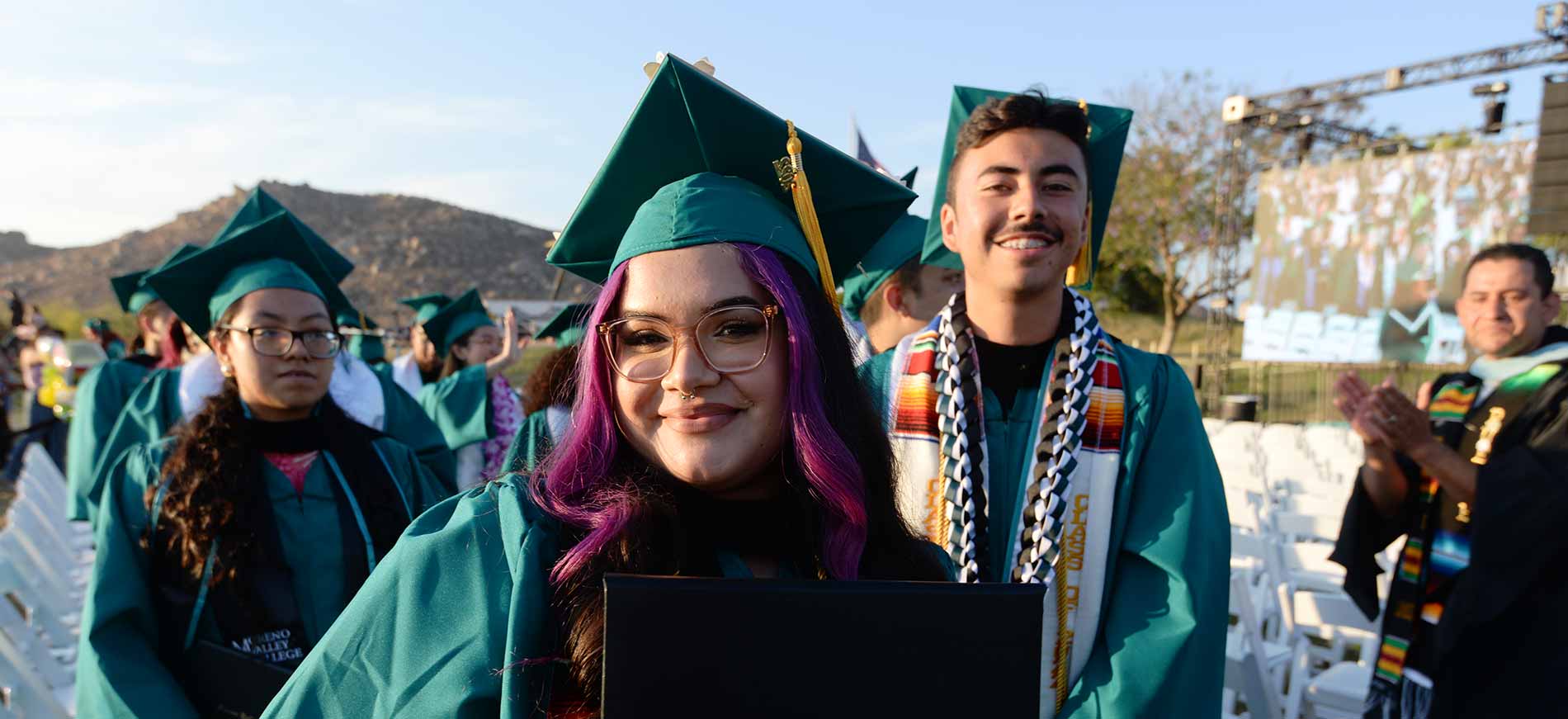 Ready to become a Mountain Lion?