Riverside Community College District and Moreno Valley College Proudly Sponsor Inaugural State of the Black I.E. Symposium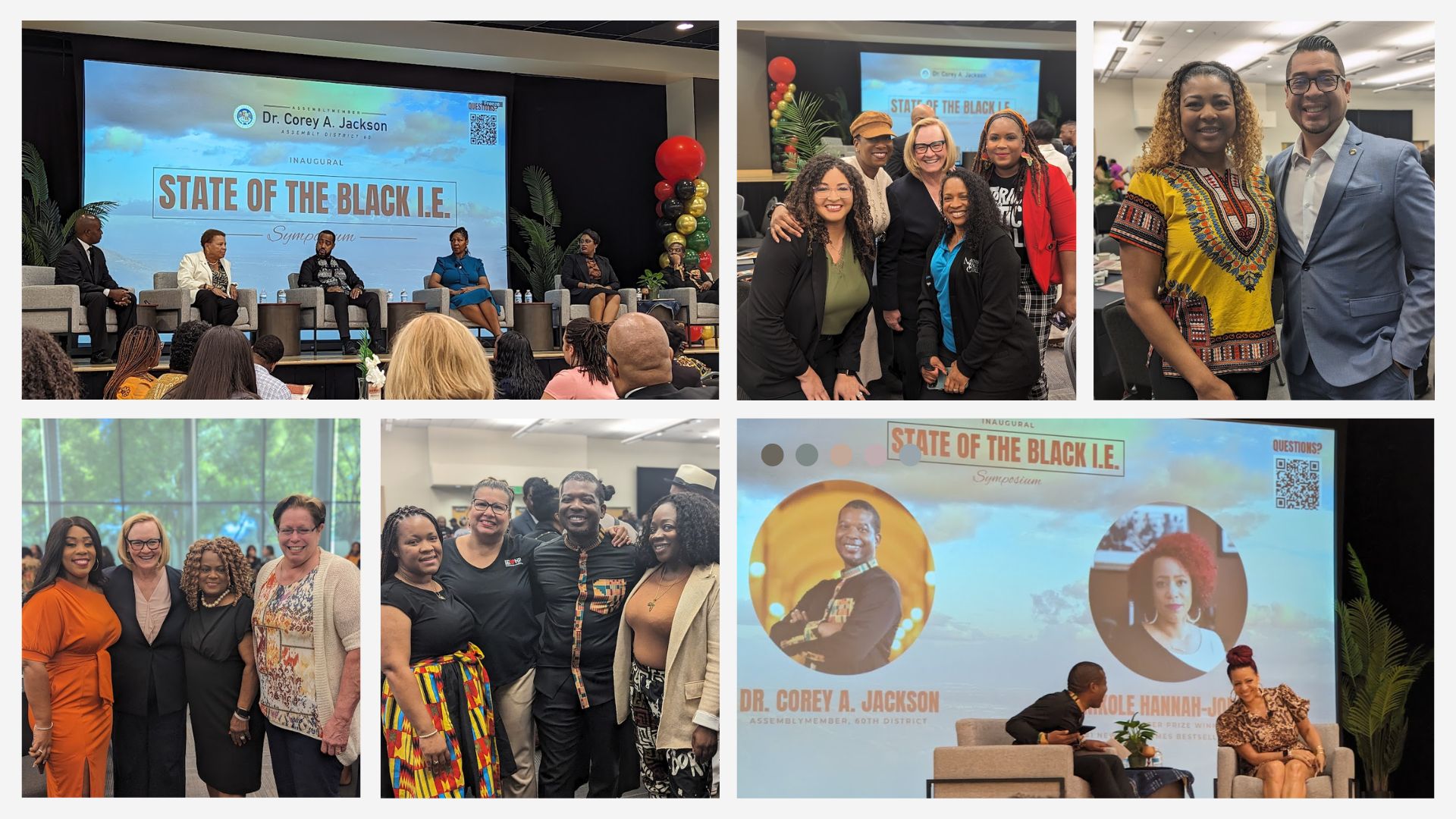 The Riverside Community College District (RCCD) and Moreno Valley College (MVC) were honored to support and sponsor the inaugural State of the Black I.E. Symposium, a significant event dedicated to advancing equity, justice, and empowerment within the Inland Empire's Black community. Hosted by Assemblymember Dr. Corey A. Jackson, the symposium served as a platform for key stakeholders, data-driven insights, and meaningful discussions on critical issues impacting the Black community.
The event, held on Saturday, October 7, 2023, at the Moreno Valley Conference Center, provided a forum for in-depth presentations and dialogues on pressing topics such as healthcare disparities, housing inequities, economic opportunities for Black entrepreneurs, and the pursuit of reparative justice.
"The State of the Black I.E. Symposium is a pivotal event, uniting our community to address critical issues, advance equity, and empower the Inland Empire's Black community for a brighter future," Assemblymember Dr. Corey A. Jackson said.
Distinguished leaders from RCCD and MVC, including Board of Trustee Member Keri Then, Vice Chancellor Tammy Few, Government Relations Director Lashe' Rodriguez, and Moreno Valley College President Robin Steinback, Ph.D., were in attendance, demonstrating their commitment to supporting positive change within the Inland Empire.
A panel discussion of elected officials, including the State Superintendent of Public Instruction, Tony Thurmond, provided valuable insights into the importance of civic engagement and advocacy. The event also featured a keynote address from acclaimed writer and Pulitzer Prize Winner Nikole Hannah-Jones, renowned for her work on the 1619 Project and as a journalist for the New York Times Magazine.
RCCD and MVC are proud to be at the forefront of initiatives that empower the Black community through education and career exploration. As strong advocates for inclusivity, diversity, and equal opportunities, RCCD and MVC are aligned with the symposium's mission of promoting meaningful change in the region.
And, with the recent passage of Assembly Bill 1400 (AB 1400), signed by Governor Gavin Newsom, RCCD is positioned to help even more students. AB 1400 grants community college students who transfer to historically Black colleges and universities (HBCUs) a one-time grant of up to $5,000. While California lacks HBCUs within the state, this legislation creates a California-to-HBCU-to-California pipeline, benefitting not only students but the entire state.
"AB 1400 extends support to collegiate scholars in California, allowing them to access education at HBCUs and return with sharpened skills, ultimately enriching the future of our state," RCCD Chancellor Wolde-Ab Isaac, Ph.D., said.
RCCD and its colleges remain dedicated to supporting initiatives that empower the Black community and create pathways to success. We are committed to education, diversity, and inclusion and look forward to continuing our partnership with the Inland Empire's Black community, which constitutes the third-largest metropolitan area in California for Black residents.
For more information about RCCD's commitment to community engagement and education, visit the RCCD website.