College Dean Selected as a Fellow for the HACU's Leadership Academy/La Academia de Liderazgo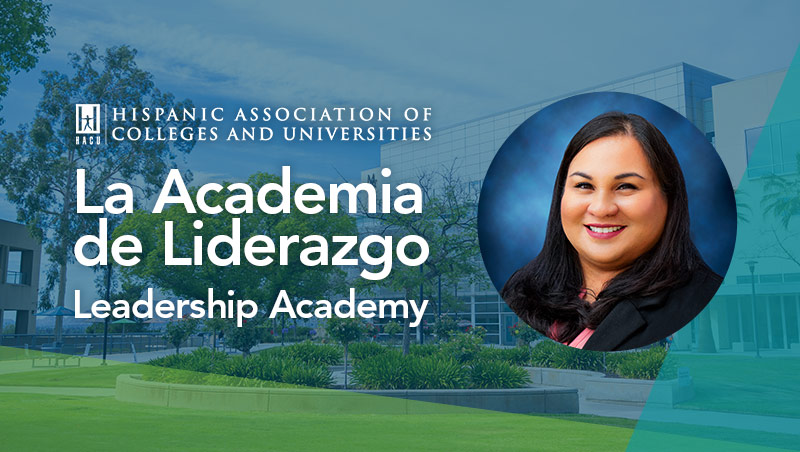 Moreno Valley College's Sandra Martínez, dean of Enrollment and Engagement, has been selected by the Hispanic Association of Colleges and Universities as one of 50 fellows who will be part of the fifth cohort of its Leadership Academy/La Academia de Liderazgo.
The program is designed to increase diverse representation in executive and senior-level positions in higher education.
"Our leadership academy fellows have already proven the value of the Association's efforts to increase diverse representation within the upper echelons of higher education by assuming top positions at colleges and universities across the nation," said HACU President and CEO Antonio R. Flores. "Students benefit from having leaders from a wide range of backgrounds, and this fifth and largest cohort to date brings a range of professional and life experience that can meet the challenges of our multicultural institutions of higher education."
Fellows participate in an array of leadership development activities preparing them for leadership roles in the full spectrum of institutions of higher learning, with an emphasis on Hispanic-Serving Institutions and emerging HSIs.
"It is an honor to represent Moreno Valley College as a selected fellow in the fifth cohort of HACU's Leadership Academy," Martinez said. "I am thrilled for the opportunity to network, learn from my fellow colleagues and expand my leadership abilities in support of student success. The experience and knowledge I gain from this experience will develop my leadership skills, and the effects will resonate through Moreno Valley College to better serve and impact our students."
The one-year fellowship program includes webinars and three seminars. The first seminar will be held in October 2023 in conjunction with HACU's 37th Annual Conference in Chicago. The second seminar will be held in Washington, DC, in April 2024, at HACU's National Capitol Forum. The final seminar will take place in Salamanca, Spain in the summer of 2024 at HACU's International Conference.
The Leadership Academy faculty consists of current and former presidents, chancellors and senior administrators and brings over 100 years of combined experience in serving various sectors of higher education, including private/public universities, community colleges and faith-based institutions. Mentorship with a university president or senior-level administrator is a key component, as well as the development of a special project designed to have an impact at the Fellow's current institution.
"We are very proud of Sandra and are excited that she will be able to participate in this national leadership program," Robin Steinback, Ph.D., president, Moreno Valley College, said. "It is a wonderful opportunity for her that will also bring Moreno Valley College's name and reputation into broad national network of higher education leaders."
The Hispanic Association of Colleges and Universities, founded in 1986, represents more than 500 colleges and universities in the United States, Latin America, Spain and school districts throughout the US. HACU is the only national association representing existing and emerging Hispanic-Serving Institutions.