College Awards Professorship to Biology Instructor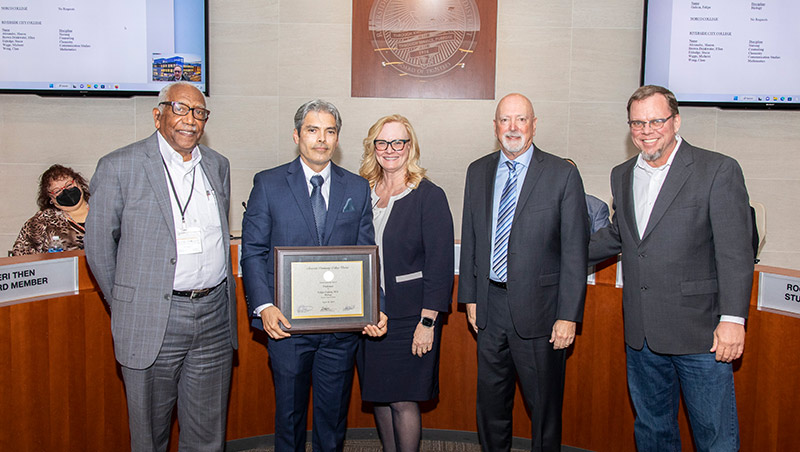 Felipe Galicia, a Moreno Valley College biology instructor, was awarded the rank of Full Professor at the April 18 Riverside Community College District Board of Trustees meeting. Galicia was one of six faculty members selected, the other five being from Riverside City College.
Galicia has been an educator at the District for 22 years, beginning as a part time instructor. He began his teaching career at Eisenhower High School in the Rialto Unified School District, teaching honors chemistry and advanced placement biology. He also worked as an adjunct professor, teaching biology in the evenings. In 2005, Galicia was hired as a full time faculty member.
"I am humbled by this acknowledgement," he said. "I am routinely impressed by the intellect of my colleagues. They are thoughtful and compassionate towards the students we serve. I work alongside them, which is both daunting and humbling. How to measure up? Equally daunting and humbling is realizing the role we play in our students' academic journeys. Our words and actions have a meaningful effect on their lives. Like our students, we're still learning. We should be eager to know the next version of ourselves."
During his career at Moreno Valley College, Galicia has been active with the Academic Senate, currently serving as the College's Faculty Senate president. He has held other positions and been active within his department, serving as department chair. He has also piloted student support initiatives such as supplemental instruction, served as club advisor for several student-led clubs focused on fitness and hiking themes. Three times, he received Instructor of the Year award for the Natural Sciences.
But his greatest impact has been on students.
During the 2008-09 academic year, he partnered with cell and molecular biologists from
California State University, San Bernardino, for a stem cell research grant. The grant was awarded by the California Institute for Regenerative Medicine. California's Stem Cell Agency was created in 2004 when California approved Proposition 71: the California Stem Cell Research and Cures Initiative. That initiative created the California Institute for Regenerative Medicine to fund stem cell research in the state.
"Under this grant, my students majoring in biology received advanced technical training on the successful culturing and maintenance of stem cells. Students practiced with yeast cells before moving on to working with stem cells," he said. "These students were able to include this rare and invaluable stem cell experience in their CVs and applications to universities.
"The equipment from this grant is still used in the bio major lab series to culture eukaryotic cells. This grant and partnership created long-standing positive effects for our college and students."
Then during the 2016-18 academic years, he partnered with a colleague at MVC to explore inquiry based teaching, which is ideal for the sciences.
"An initiative for inquiry based pedagogy was already underway at Finger Lakes Community College in New York. Finger Lakes CC organizes the Community College Undergraduate Research Initiative, which uses an inquiry-based teaching model," Galicia said. "Students are exposed to real world science through a case study followed by hands-on research experience resulting from questions related to the case."
In the spring of 2018, Galicia enrolled in a Partners in the Parks training opportunity coordinated by the National Collegiate Honors Council. Partners in the Parks is an outdoor experiential learning program. He said that projects at national parks offer unique opportunities for collegiate honors students and faculty to visit parks of the American landscape noted for their beauty, significance and lasting value. He organized a visit with Joshua Tree National Park rangers to participate and contribute to longitudinal studies of Climate Change Effects on Joshua Trees.
"Students in honors geography, biology and the MVC STEM club attended. Students gathered metrics on the growth potential of the trees, which were then provided to the rangers," he said. "This partnership was well received by students and faculty. We have since grown this to become an interdisciplinary approach to teaching for enrichment in our Honors Program and to create community among honors students. Our projects take advantage of exciting recreational activities in the Park to broaden students 'understanding of the overall value of our national parks."
Galicia received his master's degree in biology from California State University, San Bernardino, with a research focus on the cell and molecular mechanisms of Type II diabetes. He also obtained a teaching credential for secondary education from the university.