College Honors Dr. Martin Luther King, Jr., Cleveland Johnson, and Scholarship Winners at Annual Scholarship Breakfast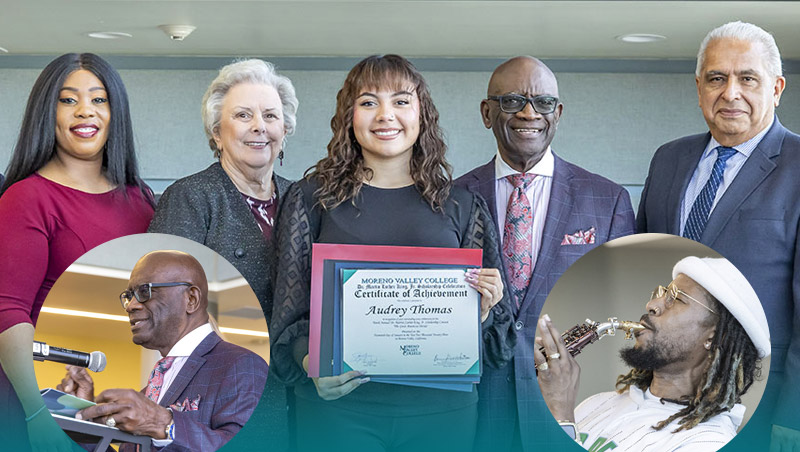 For the first time in three years, Moreno Valley College physically hosted its annual Dr. Martin Luther King, Jr. Scholarship Breakfast. Now, in its 10th year the event honored Cleveland Johnson, a Moreno Valley Unified School Board member, with the 2023 Moreno Valley College Legacy Award and as well as students in the community with scholarship awards from the speech/writing competition.
Saul Lankster, II, J.D., a foot soldier for Dr. Martin Luther King, Jr., delivered the keynote address. He along with the late Congressman John Lewis were arrested leading up to the iconic march across Edmund Pettus Bridge, the site of the brutal Bloody Sunday beatings of civil rights marchers during the first march for voting rights. The televised attacks were seen all over the nation, prompting public support for the civil rights activists in Selma and for the voting rights campaign.
Lankster, a Congressional Gold Medal selection, went on to become the first black firefighter in Compton. He was also a police officer, Veteran, and community activist, serving as a school board member in Compton, teacher, school principal and college professor. He earned a juris doctor degree, and today serves as a faculty member with National University, teaching criminal justice and law for National University's School of Professional Studies. But it was while studying at Selma University in the early 1960s when he became a student civil rights leader, despite his father's wishes.
As part of the festivities, area high school and college students are honored after competing in either a speech or writing competition. This year, students were asked to share their observations or personal experiences of the Great American Divide and how they or others in the community have been affected by it. Additionally include how they would implement plans of reconciliation for those underserved and often undervalued populations in one of the following areas, economics, education, employment, or housing.
During a speech at Stanford University on April 14, 1967, entitled The Other America. Dr. King described how two Americas were functioning simultaneously. One where there was an abundance of wealth and one where there was an abundance of poverty. Dr. King stated that these two Americas would continue to co-exist until the disparities in economics, education, employment, and housing were rectified. Dr. King goes on to state that "Every city in our country has this kind of dualism, this schizophrenia, split at so many parts, and every city ends up being two cities rather than one."
Scholarship Winners
Moreno Valley College - Deazjah Green and Ursula Martin Isabel
Moreno Valley Unified School District - Noe Soto, Canyon Springs High School; Audrey Thomas, Valley View High School
Val Verde Unified School District - Hansel Orellana, Rancho Verde High School; Bill Tran Phan, Rancho Verde High School
Honorable Mention - Ariana Sicairos, Vista del Lago High School