Moreno Valley College Honored by Military Times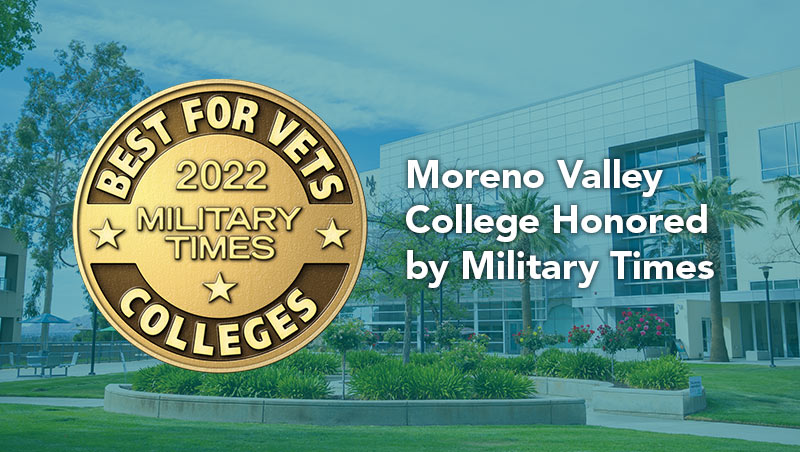 Moreno Valley College was selected as one of top 300 higher education institutions in the nation for Veterans in the most recent Best for Vets ranking by the Military Times, an independent source for news and information for military members and their families.
The selection marked the second time the College has been honored, first being in 2019. In the 2022 ranking, MVC was 286th nationally, and 22nd in the west region. In all, 16 institutions in California made the ranking, five of them community colleges (Pasadena City, Citrus, Cuyamaca Norco, and Moreno Valley colleges). Four institutions within the Inland Empire made the ranking. California State University, San Bernardino was the 10th followed by California Baptist University (26th), Norco College (257th) and Moreno Valley.
According to the Census, as of July 1, 2021, over 120,000 Veterans reside in Riverside County.
"We are proud to have been granted this distinction as one of the top five best community colleges for Veteran students in California," Mark Diaz, coordinator of the Veterans Resource Center, said. "Receiving this prestigious honor would not have been possible without the dedicated staff, faculty and administrators who go above and beyond to ensure our Veterans secure the student support and services they need to achieve their academic success."
The College's Veterans Resource Center has also been honored twice as a Military Friendly School.
The Military Times' rankings are based on survey — the most comprehensive school-by-school assessment of Veteran and military student services and rates of academic achievement — as well as a detailed review of public data collected by federal agencies. As for all Military Times rankings, Best for Vets: Colleges is an editorially independent, objective and rigorous news project. This feature evaluates the many factors that help make colleges and universities a good fit for service members, military Veterans, and their families. About 500 colleges took part in this year's survey.
Military Times' methodology includes responses from more than 300 schools that answered more than 70 questions on their services and programs specific to military students — whether active-duty, Veteran or dependents of servicemembers. Student success metrics (completion, retention, persistence, GPA) are the most important factor in determining the relative ranking of schools on this year's list, followed closely by the range of military-specific resources and the level of financial assistance they offer. Admissions and registration policies, human resources and assorted miscellaneous considerations also factor into the scoring rubric.
MVC became a fully accredited college in 2010, making it the 111th California community college. The College has grown from serving 3,490 students in the College's first semester to an annual enrollment of 10,000 students.
The College's Veterans Resource Center assists military personnel transitioning to civilian life by providing effective and timely services in a safe, challenging and supportive learning environment. College Veterans have a dedicated service space at the College as well as access to counselors to assist in their college transition.
MilitaryTimes.com is a part of the Sightline Media Group, formerly known as the Army Times Publishing Company, which first published Army Times in 1940. Throughout its history, the company has a strong heritage and tradition of meeting the highest standards of independent journalism and has expanded with publications serving all branches of the military, the global defense community, the US federal government, and several special interest, defense-oriented industry sectors.