Welcome to Moreno Valley College's Redesigned Website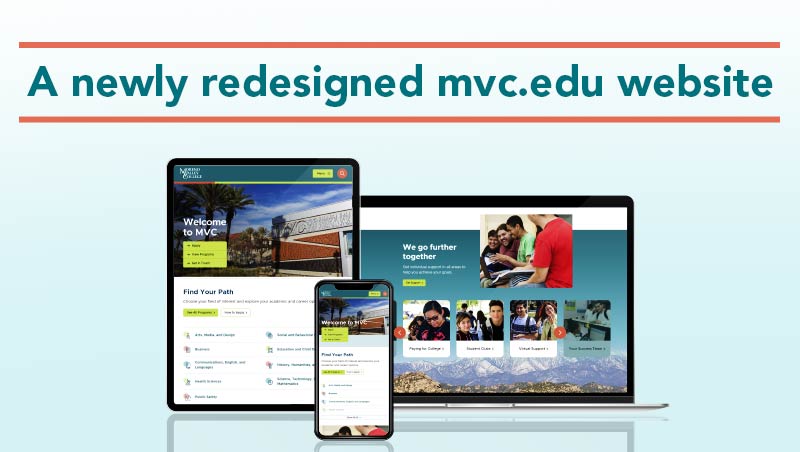 Welcome to Moreno Valley College's newly redesigned website. This student-first redesign is designed to better highlight information about academics, admissions and aid, and our amazing student support programs. The College's approach to the website aims to assist current and prospective students of all ages and backgrounds to quickly find what they need.
Navigating New Features Find Information Quickly Report Issues
What's Changed
We've streamlined our website structure by consolidating over 2,200 pages and 10,000 files.
The MVC website is now also fully responsive for mobile devices, which makes up over 60% of our web traffic.
We've reviewed and edited information on every page to bring everything up to date.
We've reorganized content and navigation to make finding information easier than ever.
Our website is now better accessible for screen readers and other accessible devices.
Menu and Navigation
Moreno Valley College's website is divided into two navigational sections, both of which can be reached in the top header.
Main navigation: Divided into four sections, our main navigation ensures you can navigate our website based on the subject you need to learn more about.

Utility navigation: This is where you'll find services, like MyPortal, WebAdvisor, and EduNav, to log into, direct access to our campus locations and maps, as well as to our sister colleges, information for specific audiences, and a link that heads into information for employees.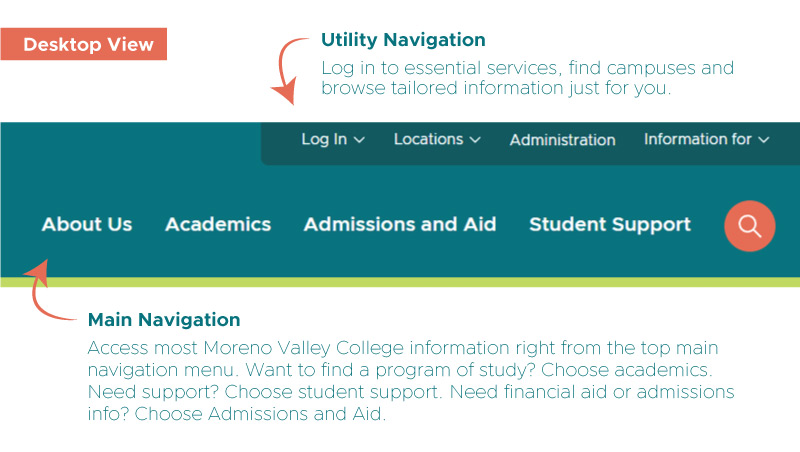 Log into services like email, WebAdvisor, MyPortal, EduNav and more by hovering over the "Log In" menu.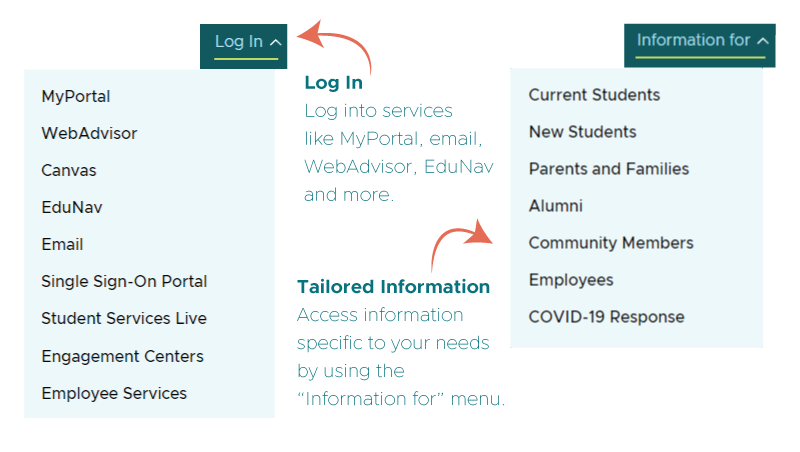 Mobile users will be able to expand the main navigation area by clicking on the green Menu button at the top right of the page. If you're on a page with additional section navigation that would fall to the left, then a second button will appear so you can review pages relevant to where you are on the website, too.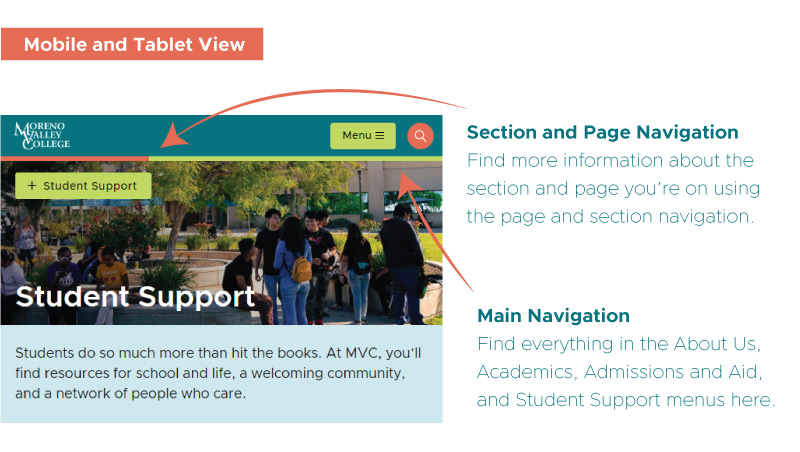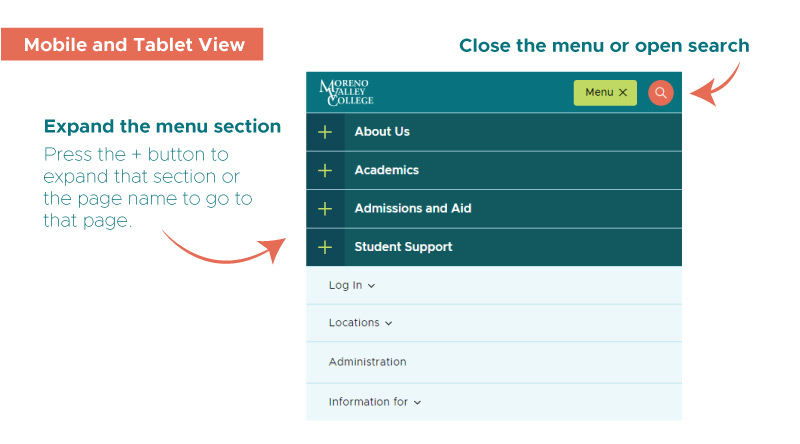 New Features
New features include: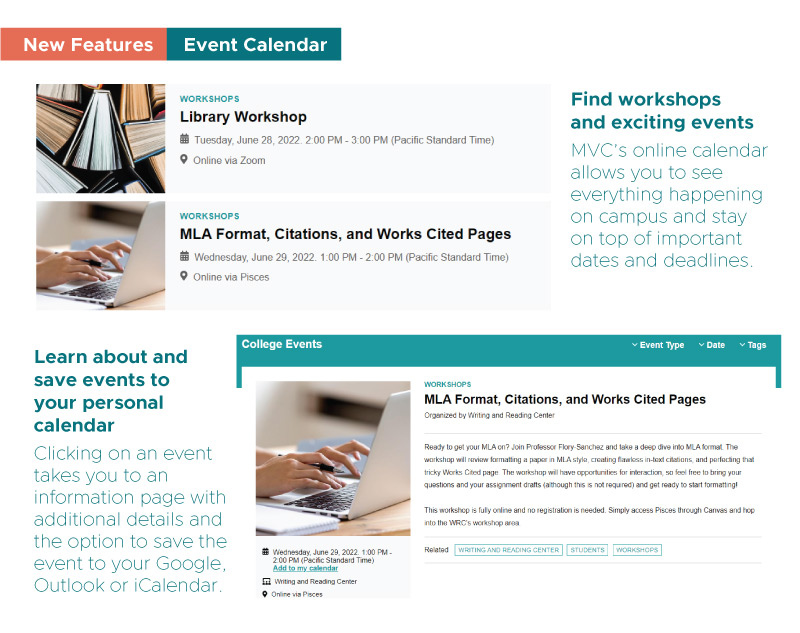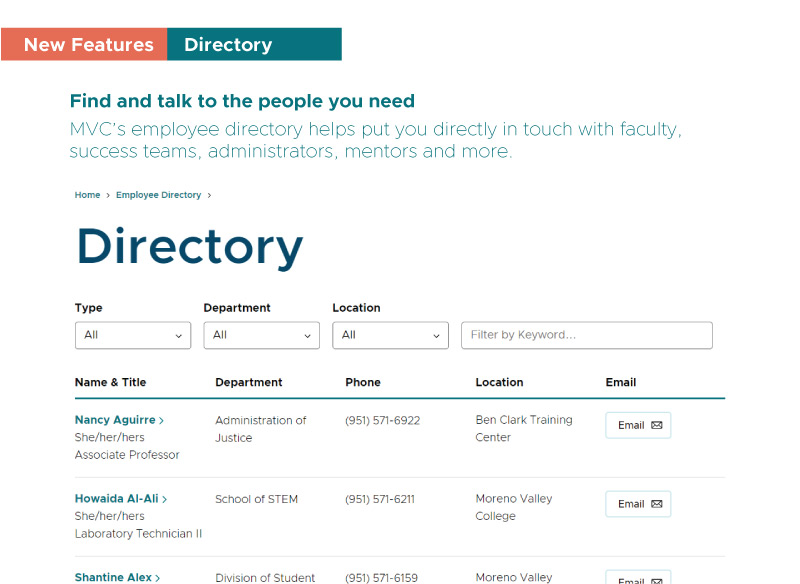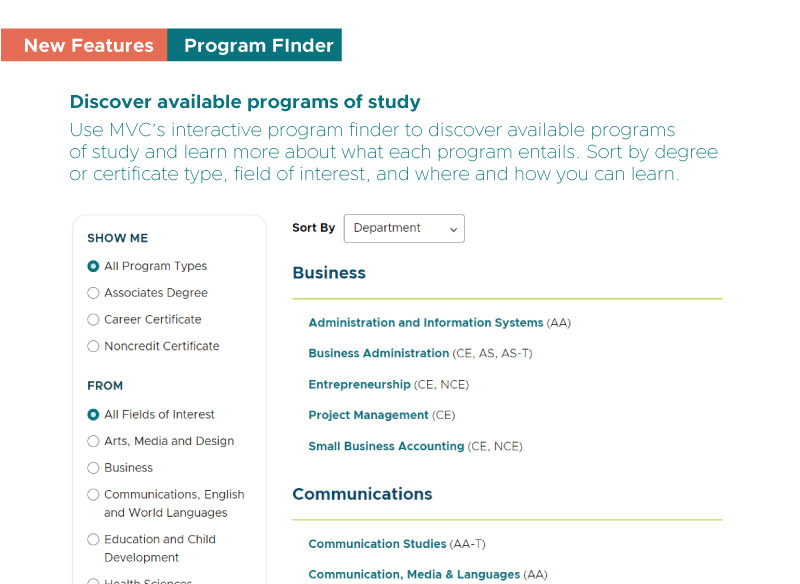 Quick Resources
If you need to find something, here are some common areas:
Report Issues
If you need assistance with using the Moreno Valley College website, reach out to the webmaster. Email webmaster@mvc.edu to report broken pages, if you can't find information, have trouble accessing key services via the website, and so on. It helps if you include the URL you are trying to access and details about the problem you're experiencing.