College to Participate in College Corps Program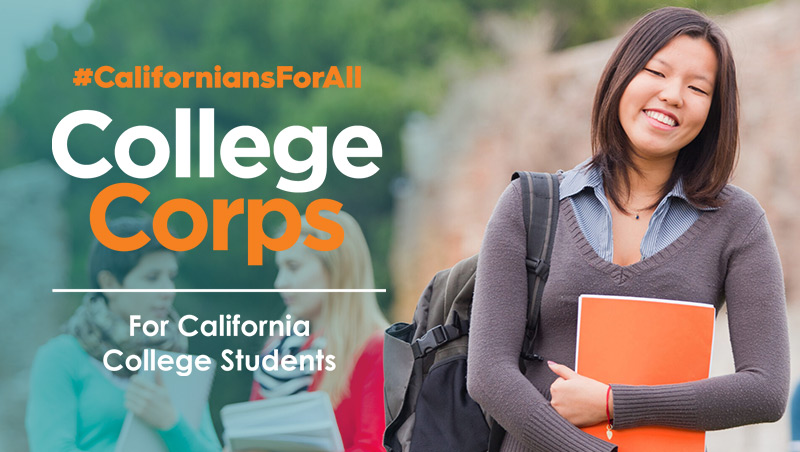 Education leaders gathered in Riverside on April 13 to encourage students to apply for the #CaliforniansForAll College Corps program — a new opportunity for California college students to serve their communities in critical issue areas such as climate action, education, and food insecurity.
This groundbreaking program intends to unite young Californians of all backgrounds in service, and specifically creates opportunities for AB 540 eligible Dreamers to serve their communities.
"Moreno Valley College has a long history of service learning, and we are prepared to join Governor Newsom and our colleagues in higher education to support our students as they become the public service-oriented, problem-solving leaders of tomorrow through active engagement in their own communities today," Robin Steinback, Ph.D., president of Moreno Valley College, said.
Students, who complete 450 hours of service with College Corps, can receive $10,000 ($7,000 stipend, provided in monthly installments, and a $3,000 education award) for completing a year of service, plus gain academic credit, work experience, training and networking opportunities.
The application period opened April 1. The three colleges — Moreno Valley, Norco and Riverside City — will participate in the pilot program. Moreno Valley and Norco colleges will have 10 college fellows. Riverside City College will have 30.
"The colleges of the Riverside Community College District are thankful for the opportunity to participate," Wolde-Ab Isaac, Ph.D., chancellor, said. "This program provides both the means and the opportunities for college students to deepen their knowledge of the needs of our local communities and strengthen their commitment to work with partner organizations to provide relevant service to our communities."