College Welcomes Three New Faculty Members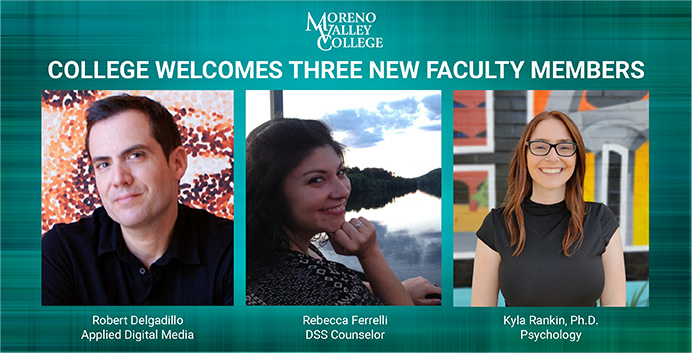 Moreno Valley College welcomed three new faculty members this fall: Robert Delgadillo, Applied Digital Media; Rebecca Ferrelli, DSS counselor; and Kyla Rankin, Ph.D., Psychology.
Delgadillo began teaching university level art and graphic design courses in 2006, serving as a full-time faculty member at The Art Institute of California's San Bernardino and San Diego campuses. He has been actively working as a freelance commercial graphic artist for over 16 years. His illustrations and designs have been published in major advertising campaigns, reproduced for licensed goods, exhibited in fine art galleries, and acknowledged in the press internationally.
Clients and collaborations include Warner Bros. Entertainment, The Estate of Marilyn Monroe, Too Faced Cosmetics, Chuck Jones, Kitson, and Q-Productions/The Estate of Selena Quintanilla. Delgadillo holds a bachelor's degree in Graphic Design from The Art Institute of California-Orange County and a master's degree in Illustration from The Savannah College of Art and Design.
"I'm thrilled to be returning to Moreno Valley College and continuing the process of collaboration in expanding the Applied Digital Media Program," Delgadillo said. "It is with great enthusiasm I look forward to serving our students, providing them with the most comprehensive educational experience in art and design possible."
Ferrelli began working in education while studying abroad in South Africa where she taught first grade at a primary school. After returning to the United States, Ferrelli completed her bachelor's degree in Human Development and Family Sciences with a minor in Human Services at Oregon State University. She became a senior behavioral therapist, working with children impacted by autism. She said, her passion for supporting underrepresented populations continued and she transitioned from the K-12 system to working within the California Community College system in 2015.
She went on to earn a master's degree in College Counseling and Student Development from Azusa Pacific University and now specializes in program development and supporting students with disabilities.
Prior to accepting the position at MVC, Ferrelli worked at Citrus College and Santiago Canyon College.
"I am so grateful to be joining the MVC family as your new DSS counselor and learning disabilities specialist," Ferrelli said. "I look forward to many years of learning together, growing together, and serving our wonderful students and community."
For 17 months Rankin served as an adjunct faculty member at MVC. Rankin earned her undergraduate degree in Psychology from Fresno State University and then enrolled at UC Riverside, earning a master's degree in Social/Personality Psychology and then a doctoral degree in Social/Personality Psychology, Health and Well-Being Specialization.
While at UC Riverside, Rankin worked for the University Teaching Certificate Program, designing curriculum for instructors across the campus, conducting teaching observations, and evaluating teaching portfolios. She also taught health psychology and psychological research method courses. Rankin received several academic excellence awards and has been published extensively in professional journals.
"I am excited to be furthering my commitment to teaching and service in the Psychology Discipline and in our community," Rankin said. "I am eager to learn from each of you and I look forward to being a part of the MVC family."