Askar Selected as Vice President of Business Services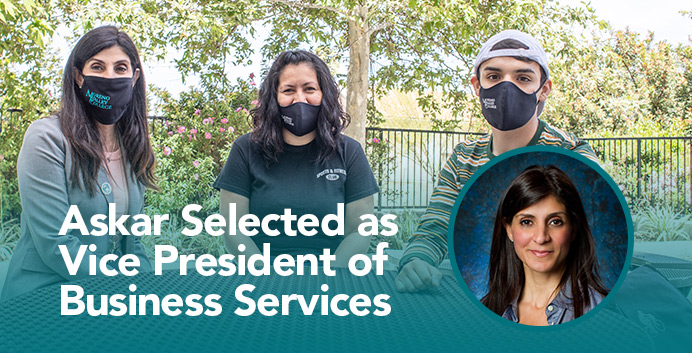 Majd Askar, an 11-year employee of Riverside Community College District, has been selected as vice president of Business Services at Moreno Valley College. Askar, who had been serving as interim vice president for the last few months, was officially installed at the Board meeting on August 17.
Askar, who holds a bachelor's degree in Business Administration from California State University, San Bernardino, began her career at Riverside Unified School District in 2003. In 2010, she transitioned to RCCD, working alongside Aaron Brown, vice chancellor of Business Services. For five years, she served as purchasing manager and in 2015 earned the title of director of Business Services.
"My background and experience, including my experience at the Riverside Community College District office, has prepared me well for this amazing opportunity," Askar said. "My personal and humbling experiences in life have defined the person I am today. I can bring my identities to the table, navigate in my roles, and understand that everyone is unique, and what they bring to the table is, too.
"I'm excited and honored at the opportunity to serve my community and ensure students pursue an education and viable career path."
At MVC, Askar is tasked with leading various college operations, including facilities and grounds maintenance, safety, food service, bookstore, asset management, campus operations, building security systems, college technology services and initiatives, grant support, and assure compliance with financial/business and contractual obligations.
She will also serve as a member of the senior leadership team, ensuring that the College achieves its strategic and operational goals, while maintaining the commitment to shared governance.
"We are excited to be adding Majd to the management team at Moreno Valley College," Robin Steinback, Ph.D., president, said. "She brings a wealth of experience to the position after an incredible career in fiscal operations at the District. She has a wealth of experience in budget control and development and purchasing. She will be a great access to the College as we maneuver through the pandemic and the full reopening of the College."