Talent Search Program Receives Five-Year Refunding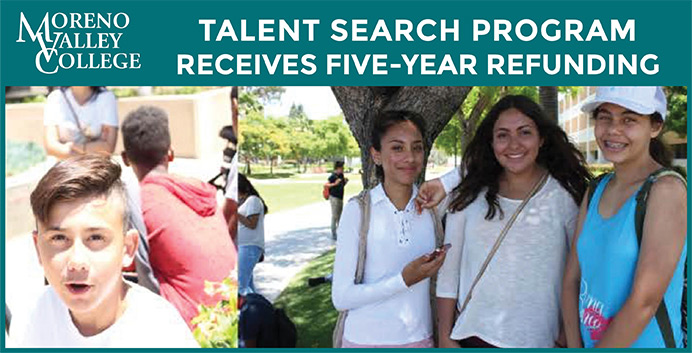 The United States Department of Education notified Moreno Valley College that its Talent Search Program has been refunded for another five years. MVC's award amounts to $1.386 million over the next five years.
The Talent Search Program, a pre-collegiate program, is one of four TRIO programs at the College. TRIO programs serve as outreach and student services programs designed to identify and provide services for individuals from disadvantaged backgrounds, helping them prepare for and graduate from college. The other TRIO programs are ACES Student Support Services Program (collegiate), Upward Bound Math and Science (UBMS) Program (pre-collegiate), and Upward Bound Program (pre-collegiate).
"We are excited to continue the strong partnership with Moreno Valley Unified School District," Micki Grayson, director, Office of TRIO.
Moreno Valley Unified School District is the 22nd largest school district in California.
Each year, the Talent Search Program serves 500 students from Valley View and Vista del Lago high schools, as well as pupils from Badger Springs, Landmark, Mountain View and Palm middle schools. Nearly 70 percent of individuals in the Talent Search Program are first-generation students. Each of these schools are located less than six miles from the College campus.
"The Talent Search program identifies and assists individuals from disadvantaged backgrounds who have the potential to succeed in higher education," Grayson said.
The program provides academic, career, and financial counseling to its participants and encourages students to graduate from high school and continue to pursue a postsecondary education.
Grayson said that nearly 54 percent of the top graduating high school students have been TRIO scholars. The Talent Search Program assisted nearly 76 percent of its graduates to go to college. Students have matriculated to such schools as UC Riverside, UC Los Angeles, California Baptist University, CSU San Bernardino, and Moreno Valley College.
"Programs like Talent Search directly align with MVC's and the District's strategic goals to strengthening a college-going culture in the local service area and region," Grayson said. "Furthermore, MVC and MVUSD are committed to increasing equity, access and fostering unique student learning opportunities via pre-guided pathways. The Office of TRIO programs appreciates the continued support of its partners to serve students and the community."