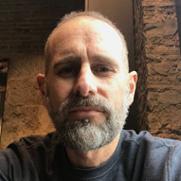 Michael Schwartz, Ph.D.
He/him/his
Associate Professor, English
About
Michael Schwartz is an Associate Professor of English. He teaches courses in composition and literature and has a special affinity for Modernism and feminist theory. He completed his Ph.D. at UC Riverside in 2022.
Schwartz serves on the college's Distance Education Committee (DEC) and Committee for Diversity, Inclusion and Belonging (CDIB).
When he's not at work, he enjoys spending time with his wife and two fur babies. He is also an avid book collector and basketball fan.
Educational Background
B.A., M.A., California State University, Dominguez Hills.
Ph.D., University of California, Riverside.
At Riverside Community College District since 2011.