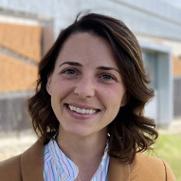 Lauren "Ally" Johnson, Ph.D.
She/her/hers
Assistant Professor, Art History
About
Hi! I'm an art historian, curator, and professor. I teach classes covering the breadth of art's history, from cave paintings to city murals. I'm most excited by the history and theory of photography! In my curatorial work and scholarly research, I'm interested in issues of visual literacy and identity, particularly as they relate to the way ideas of race, gender, and citizenship are formed and negotiated within the realm of visual culture.
Recent Publications
Lauren Johnson, "Reading and Re-Reading Ansel Adams's My Camera in the National Parks," Panorama: Journal of the Association of Historians of American Art 6, no. 2 (Fall 2020), https://doi.org/10.24926/24716839.10873.
Educational Background
B.A., Truman State University.
M.A., University of Connecticut.
Ph.D., University of Illinois.
At Riverside Community College District since 2019.