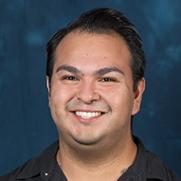 Jose Oceguera
Assistant Professor, Communication Studies
About
Hi! I am a full-time professor of Communication Studies at Moreno Valley College. I am bilingual in Spanish and English. I am a first-generation college graduate and Mexican American. I earned a Bachelor of Arts and Master of Arts degree in Communication Studies from San Francisco State University.
I started teaching college-level communication courses part-time and coaching competitive public speaking in 2018 until I became tenure-track in 2022. My diverse teaching background consists of teaching courses on public speaking, interpersonal communication, group communication, gender communication, and intercultural communication.
I enjoy teaching communication courses because students leave my courses feeling more confident about communicating effectively with the people in their lives and speaking in front of large audiences. In my courses, I take a student-centered approach to communication theory and concepts, so students can apply what they learn in the class to their personal lives and careers. I strive to make all my courses equitable and inclusive for all students. All my courses are either zero-textbook cost or low-textbook cost, and course materials are usually provided by me. In my teaching and course policies, I lead with empathy and compassion to promote equitable student access and success. I care about all my students personally and individually as well as care about their success in my courses. I hope to see you in my class someday!
Educational Background
B.A., M.A., San Francisco State University.
At Riverside Community College District since 2022.