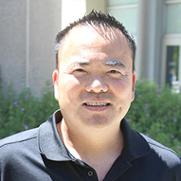 James Namekata
He/him/his
Professor, Mathematics
About
James Namekata, who was born and raised in Riverside, graduated from Ramona High School. While in high school, Namekata earned a Riverside Scholars award, enabling him to attend Riverside City College and then UC Riverside tuition-free. He graduated with his bachelor's from UC Riverside and then his master's degree from California State University, San Bernardino. He started his teaching career on the Moreno Valley campus in 1996 as a karate instructor. In 1998, under the Faculty Internship Project sponsored by the Riverside Community College District, Namekata served as an intern math instructor.
Over the last 20 years, Namekata has served in a number of roles including as the assistant chair of mathematics and kinesiology, faculty advisor of the Moreno Valley College Karate Club, member of the District Assessment Committee and faculty co-chair of Standard I Committee. Six times he has been voted Outstanding Faculty of the Year, and twice Outstanding Advisor of the Year. In 2009, he was awarded Instructor of the Year by Genbu Kai Federation.
Namekata was awarded the rank of Professor in 2020.
Educational Background
B.S., University of California, Riverside.
M.A., California State University, San Bernardino.
At Riverside Community College District since 1999.